There's something rather elegant and 1930ish about being able to say, 'I'm away next week, I'll be lunching in Carcassonne with my publisher.' Something you might read in an Evelyn Waugh novel, perhaps, but no – this really did happen to me last week! Picture: Carcassonne by night.
Laurence and Stephanie Patterson, of Crooked Cat Books, decided to set up a one-day brainstorming and discussion session ranging from marketing, to editing to submission. And they chose the elegant 5* Hotel de la Cite in Carcassonne (their home city) for the event. (Pic shows the hotel, not our conference room which was a tad smaller)
Ten writers, five Other Halves, two publishers all started with a wine tasting session on the Monday evening, and on Tuesday the other halves did their own thing while we talked, listened, watched presentations, played games, ate cake and biscuits, drank coffee and then had lunch in the hotel: 
It was a brilliant couple of days and great to meet so many fellow writers and to put faces to names. The Resident Engineer and I also had time to explore the old city and one of the many things that fascinated me was the number of drainpipes that ended like this:
Naturally we had looked up historic railways so we enjoyed a couple of trips meandering through the French countryside. On the way south we stayed in Sarlat, in the Dordogne for a couple of nights and on the return journey we stopped off at the Chateau de Monbazillac for a look round the castle and to check out their dessert wines. Took me three tasters before deciding on their 2015 vintage!

On our return I discovered that The House at Ladywell has been shortlisted for the Chanticleer Chatelaine award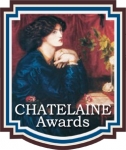 – this is a US competition for historical and romantic novels. No idea when there'll be any announcement but I'm delighted to have got so far.